Do you want to know
how to be happy?
It's very simple :-):  Create your own 30 Days Happiness Challenge!
What is happiness?
What does it mean to be really happy?
Does happiness live in your dream home or does it drive your dream car? Is it the perfect lifestyle that you can see on Instagram or Facebook?
Maybe happiness means none of this to you either and you believe that you will find true happiness in your dream weight or your dream partnership.
It's true … once we experience things we will feel happy.
But is that true happiness and what are we in time to get there?
Be happy now!
We can be happy even before we reach these goals and dreams. Now! Every single day! It's really great to have big goals like a dream home and a car that we can work towards. But it's important to realize that you can feel happy before you've achieved all of these things that you want … the things that you think will make you happy.
It's a difficult concept to understand for many people, but being happy means: Consciously appreciate the here and now.
This is actually a real booster to help you reach your big goals faster and in a much more fulfilling and colorful way than leading an unhappy life while you wait.
30 Days Happiness Challenge
The 30 Days of Happiness Challenge is all about doing a little action every day for 30 days that will put a smile on your face.
Maybe:
Treat yourself to some flowers
Bake a cake
Yoga
Eat healthily
Watch the sunrise
Try something new, etc.
That's it!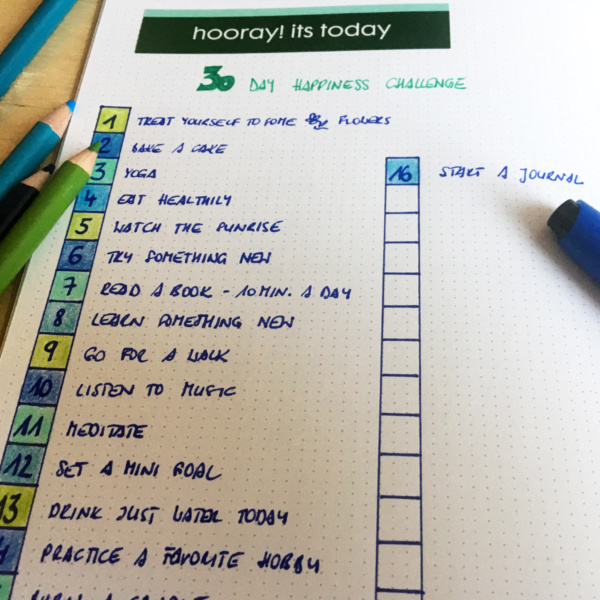 Are you ready?
So grab a pen and start your 30-day Happiness Challenge! Best in our beautiful and popular Dotted Notebook.